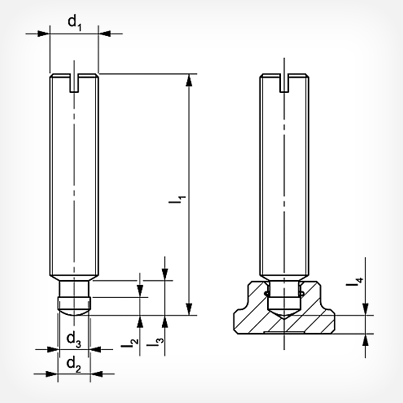 Versions with hexagon socket and special versions on request!
Versions
Steel
mechanical strength classification 5.8,
thrust point case hardened
Stainless Steel
1.4305, thrust point unhardened
Usage
The thrust point of the grub screws can be used directly or in connection with thrust pads DIN 6311 for tensioning. The spring retainer of the thrust pad DIN 6311 allows a fast, easy and removable connection between grub screw and thrust pad.
| | | | | | | | | |
| --- | --- | --- | --- | --- | --- | --- | --- | --- |
| Product No. | Product No. | d1 | l1 | d2 | d3 | l2 | l3 | l4 |
| Steel | Stainless Steel | | | h11 | | | | |
| 07-010 SM06x30 | 07-110 SM06x30 | M6 | 30 | 4,5 | 4,0 | 2,5 | 5,4 | 2,2 |
| 07-010 SM06x40 | 07-110 SM06x40 | M6 | 40 | 4,5 | 4,0 | 2,5 | 5,4 | 2,2 |
| 07-010 SM08x50 | 07-110 SM08x50 | M8 | 50 | 6,0 | 5,4 | 3,0 | 6,8 | 3,0 |
| 07-010 SM08x60 | 07-110 SM08x60 | M8 | 60 | 6,0 | 5,4 | 3,0 | 6,8 | 3,0 |
| 07-010 SM10x60 | 07-110 SM10x60 | M10 | 60 | 8,0 | 7,2 | 4,5 | 8,2 | 3,6 |
| 07-010 SM10x80 | 07-110 SM10x80 | M10 | 80 | 8,0 | 7,2 | 4,5 | 8,2 | 3,6 |
| 07-010 SM10x100 | 07-110 SM10x100 | M10 | 100 | 8,0 | 7,2 | 4,5 | 8,2 | 3,6 |
| 07-010 SM12x60 | 07-110 SM12x60 | M12 | 60 | 8,0 | 7,2 | 4,5 | 8,6 | 4,5 |
| 07-010 SM12x80 | 07-110 SM12x80 | M12 | 80 | 8,0 | 7,2 | 4,5 | 8,6 | 4,5 |
| 07-010 SM12x100 | 07-110 SM12x100 | M12 | 100 | 8,0 | 7,2 | 4,5 | 8,6 | 4,5 |
| 07-010 SM16x80 | 07-110 SM16x80 | M16 | 80 | 12,0 | 11,0 | 5,0 | 10,6 | 5,3 |
| 07-010 SM16x100 | 07-110 SM16x100 | M16 | 100 | 12,0 | 11,0 | 5,0 | 10,6 | 5,3 |
| 07-010 SM16x125 | 07-110 SM16x125 | M16 | 125 | 12,0 | 11,0 | 5,0 | 10,6 | 5,3 |
| 07-010 SM16x150 | 07-110 SM16x150 | M16 | 150 | 12,0 | 11,0 | 5,0 | 10,6 | 5,3 |
| 07-010 SM20x100 | 07-110 SM20x100 | M20 | 100 | 15,5 | 14,4 | 5,5 | 12,4 | 5,6 |
| 07-010 SM20x125 | 07-110 SM20x125 | M20 | 125 | 15,5 | 14,4 | 5,5 | 12,4 | 5,6 |
| 07-010 SM20x150 | 07-110 SM20x150 | M20 | 150 | 15,5 | 14,4 | 5,5 | 12,4 | 5,6 |