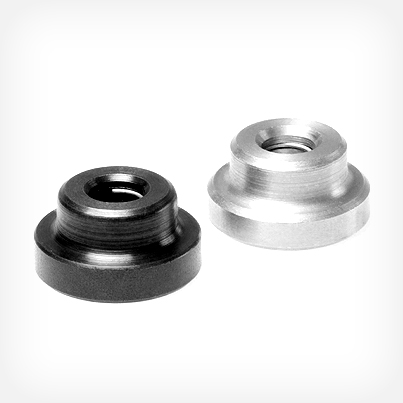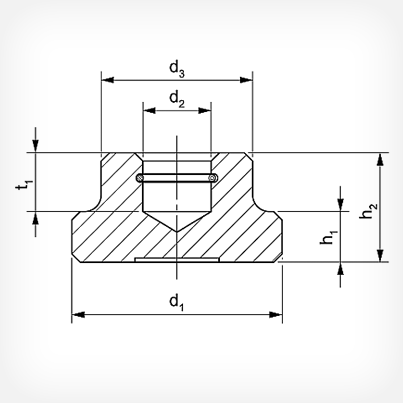 Special versions on request!
Versions
Steel
case-hardened steel, spring retainer inlayed
Stainless Steel
1.4305, unhardened, spring retainer inlayed
Usage
The result of combining thrust pads DIN 6311 and grub screws DIN 6332 is a removable tensioning screw which enables the adjustment to level out uneven surfaces. Furthermore it will avoid the transmission of rotational movements to the surface of the workpiece.
| | | | | | | | | |
| --- | --- | --- | --- | --- | --- | --- | --- | --- |
| Product No. | Product No. | d1 | d2 | d3 | h1 | h2 | t1 | corresponding |
| Steel | Stainless Steel | | H12 | | | | | grub screw |
| 06-020 S12 | 06-120 S12 | 12 | 4,6 | 10 | 2,5 | 7 | 4,0 | M6 |
| 06-020 S16 | 06-120 S16 | 16 | 6,1 | 12 | 4 | 9 | 5,0 | M8 |
| 06-020 S20 | 06-120 S20 | 20 | 8,1 | 15 | 5 | 11 | 6,0 | M10 |
| 06-020 S25 | 06-120 S25 | 25 | 8,1 | 18 | 6 | 13 | 7,0 | M12 |
| 06-020 S32 | 06-120 S32 | 32 | 12,1 | 22 | 7 | 15 | 7,5 | M16 |
| 06-020 S40 | 06-120 S40 | 40 | 15,6 | 28 | 9 | 16 | 8,0 | M20 |