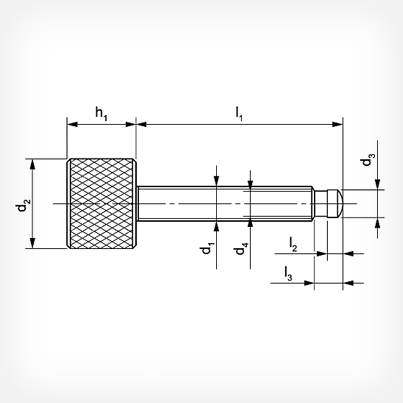 Special versions on request!
Version
Free cutting steel, black-oxided,
thread case-hardened
Max. clamping force
250 N
Usage
Torque screws are indicated, if a defined, reproducible clamping force is required. Two adjustable, spring-loaded ball pressure elements will unlock, as soon as the final pressure is reached.
For pressure-sensitive parts the thrust point can be combined with thrust pads DIN 6311.
| | | | | | | | | |
| --- | --- | --- | --- | --- | --- | --- | --- | --- |
| Product No. | d1 | l1 | d2 | h1 | d3 | d4 | l2 | l3 |
| | | | | | h11 | | | |
| 14-010 M06x40 | M6 | 40 | 26 | 20 | 4,5 | 4,0 | 2,5 | 5,4 |
| 14-010 M06x60 | M6 | 60 | 26 | 20 | 4,5 | 4,0 | 2,5 | 5,4 |
| 14-010 M08x40 | M8 | 40 | 26 | 20 | 6,0 | 5,4 | 3,0 | 6,8 |
| 14-010 M08x60 | M8 | 60 | 26 | 20 | 6,0 | 5,4 | 3,0 | 6,8 |
| 14-010 M08x80 | M8 | 80 | 26 | 20 | 6,0 | 5,4 | 3,0 | 6,8 |
| 14-010 M10x40 | M10 | 40 | 26 | 20 | 8,0 | 7,2 | 4,5 | 8,2 |
| 14-010 M10x60 | M10 | 60 | 26 | 20 | 8,0 | 7,2 | 4,5 | 8,2 |
| 14-010 M10x80 | M10 | 80 | 26 | 20 | 8,0 | 7,2 | 4,5 | 8,2 |
| 14-010 M12x40 | M12 | 40 | 26 | 20 | 8,0 | 7,2 | 4,5 | 8,2 |
| 14-010 M12x60 | M12 | 60 | 26 | 20 | 8,0 | 7,2 | 4,5 | 8,2 |
| 14-010 M12x80 | M12 | 80 | 26 | 20 | 8,0 | 7,2 | 4,5 | 8,2 |
| 14-010 M12x100 | M12 | 100 | 26 | 20 | 8,0 | 7,2 | 4,5 | 8,2 |